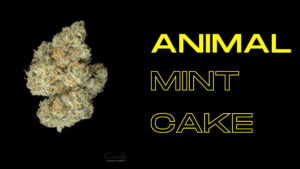 If you're looking for a new strain to try, look no further than Animal Mint Cake. Bred by Seed Junky, this Indica Dominant cross of Animal Cookies, GSC, and Blue Power is a real winner. With its pungent sweet aroma and sweet fuel flavor, AMC is sure to please even the most discerning cannabis user. AVG THC:15-23%
Appearance and Aroma
Animal Mint Cake gets its name from its appearance – it's covered in trichomes that give it a frosty, minty look. The buds are dense and sticky, making them hard to break up by hand. When you do finally get it broken up, the smell is amazing – sweet and pungent with just a hint of fuel.
Flavor and Effects
The flavor is just as good as the smell, with a sweet candy-like taste that lingers on your tongue long after you exhale. The effects are pretty typical of an Indica dominant strain – couch lock is definitely a possibility if you smoke too much. But if you can pace yourself, AMC is perfect for unwinding at the end of a long day or for managing mild pain.
So if you're looking for a new strain to try, definitely check out Animal Mint Cake.
Come visit us at any of our Craft cannabis dispensaries in Oklahoma City to try Animal Mint Cake for yourself! With its pungent sweet aroma and sweet fuel flavor, this Indica Dominant cross is sure to please. Our knowledgeable staff can help you find the perfect strain for your needs, whether you're looking for something to relax at the end of the day or to manage mild pain. Stop by today and ask about Animal Mint Cake!