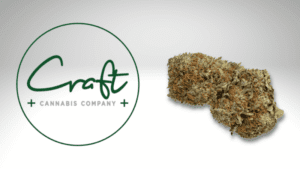 Here at Craft Cannabis Dispensary in OKC and our surrounding locations, we are often asked for strain recommendations that have a good THC / CBD ratio. If that's you, you're in luck with this cannabis strain that has a 3:1 CBD/THC ratio. Harlequin GDP will prove to be a perfect choice. This Sativa-dominant hybrid is known for its wonderful effects so let's twist one up and break it all down in this harlequin granddaddy purple cannabis strain review.
The medical benefits of the Harlequin GDP strain of cannabis are becoming more and more popular. This strain is a cross between the Harlequin and Granddaddy Purple strains, and is known for its THC: CBD ratio of 3:1. This makes it a great choice for medical cannabis patients who want the benefits of THC without the psychoactive effects. Harlequin GDP is well suited for all-day consumption, but it's up to personal discretion how it affects you. The main medical benefits of this strain include relief from pain, anxiety, and stress. It's also been known to help with nausea and lack of appetite. If you're looking for a strain of cannabis that can help you with a wide range of medical conditions, Harlequin GDP is a great choice.
The Harlequin GDP strain is known for its high CBD content and can be found in many different forms of consumption like drinks, tinctures, edibles, and topicals. It has a sweet grape flavor and aroma with a touch of berries and musk. The buds are often mint green in color, but can also be violet purple. They are often covered in thick, long, dark-orange pistils and sugar leaves. Harlequin GDP is known for its potent effects and beautiful crystalline appearance. The dominant terpene in this strain is Myrcene.
Myrcene has many therapeutic benefits, including potential anti-inflammatory and anti-tumor effects. Additionally, myrcene is believed to have sleep-supportive benefits.
Traditional Uses of Cannabis That Are High in Myrcene:
Improve sleep
Reduce pain
Promote relaxation
Enhance mood
Relieve anxiety
Relieve Stress
Strengthen the immune system
HGDP Effects
The effects of this flower are largely medicinal, as it contains a relatively low THC concentration of 10%. This bud can be consumed however you want, as it does deliver both medicinal and recreational effects which can benefit just about anyone. The creeper marijuana strain slowly builds in strength behind your eyes before you feel it throughout your head with euphoric bliss. The bud will instantly elevate your mood and help you focus on what is important while blocking out distractions. Although it may seem like you are getting higher and higher, you will eventually reach a plateau where the Indica aspects of the bud take over.
The deep sense of relaxation that comes with Harlequin GDP allows your muscles to loosen and any pain or discomfort to disappear. This makes it a great choice for daytime use, as it won't leave you feeling lethargic or sleepy. Harlequin GDP is often used to relieve symptoms of depression, anxiety, chronic pain, chronic stress, and insomnia. This strain is most often used by those seeking relief from symptoms of depression, anxiety, chronic pain, chronic stress, and insomnia.
Harlequin GDP is a great strain for those who are looking for relief from anxiety, stress, and depression. If you're looking for something to help you relax after a long day or want to get some restful sleep, this could be the perfect choice for you. Be sure to check it out at your local craft cannabis dispensary in OKC and the surrounding area!